A Celestine Welcome
Realise your dream trip to Japan
Discover these recommended spots around Tokyo, in association with The Celestine Shiba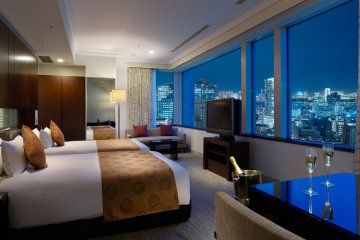 A Celestine Welcome
An oasis in the city
The Celestine Shiba Tokyo Hotel exudes an elegance that creates a tranquil environment that is the bedrock of the Satsuma Clan. The hotel uses the geometric emblem of the esteemed clan to etch refined details into every corner of the hotel. Boasting spacious airy rooms decorated with subtle Satsuma features, the Celestine feels a world away from the busy Tokyo streets.
Tradition courses through Shiba, with numerous historic sites scattered around the district. Against the backdrop of Tokyo Tower, Zojoji Temple is a religious beacon with a rich history, while the exquisite Hamarikyu Gardens provide the perfect respite from the city's chaos.
Tokyo
A hotel with a modern take on Japanese style
An elegant oasis, perfect for a stylish break in the city. The Celestine's concept revolves around creating a tranquil environment based on the warrior history of the Satsuma Clan...