Meguro River, flowing from Setagaya Ward to Shinagawa Ward in Tokyo, is very famous for its beautiful sakura cherry blossom trees between late March and early April.
In Meguro Ward, the river is about 3.8km long and there are more than 800 cherry trees there. The full force of their blooming is clear during the hanami season.
More about this event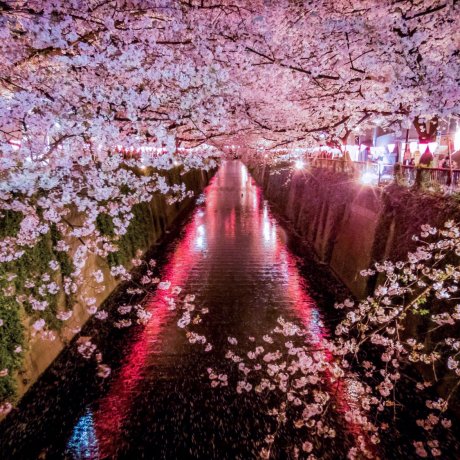 Activities
Famous for its daytime cherry blossoms, Naka-Meguro really comes to life during the evening each March/April for the cherry blossom..
The cherry blossoms were planted in 1927. But due to World War II, their numbers decreased. Following the war, more trees were planted by locals. The species planted was the "Someiyoshino", the typical Japanese cherry blossom.
These days, cherry blossoms, known as "sakura" in Japanese, are becoming quite popular around the world and many overseas visitors come to see them. The sakura in the Nakameguro area is particularly popular, including nighttime illuminated ones known as "yozakura." There are many restaurants and cafe in the area so that you can view the sakura from the restaurant.
There is also the popular "Meguro River Cruise" where you can see the blooming sakura from the river. Booking early is highly recommended if you are interested.
Meguro River has been loved by many people since Edo times. Ando Hiroshige, a ukiyoe artist, featured the river in his prints, along with Mt.Fuji and the beautiful landscape there.
There are some parks near the river where you can enjoy Ohanami with friends and families. You can walk to Ebisu Station while watching the beautiful sakura as well as enjoying some shopping and spend a fulfilling day. There are, of course, many places to eat along the way.
If you travel to Japan in spring, I recommend viewing the sakura along the river. You will be quite impressed!
Getting there
You can get to Meguro River from either Meguro Station (on the JR Yamanote Line) or Nakameguro Station (on the Metro Hibiya Line).
Was this article helpful?
Hello. My name is Lily. I love traveling not in Japan but also around the world! I grew up in Kanagawa prefecture.My hobby is to climb the mountains with my friends and do some outdoor sports such as scuba diving. I introduce you my favorite places here in Japan Travel!